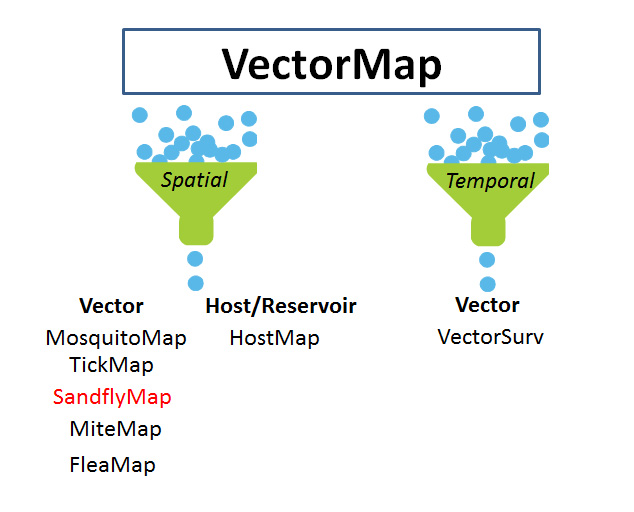 Welcome to the Sand fly pages!
SandflyMap is a product of the Walter Reed Biosystematics Unit based in the Smithsonian Institution (see link for WRBU above). SandflyMap (see graphic to the left) is a geospatially referenced clearinghouse for sand fly disease vector species collection records and distribution models within VectorMap (see link for VectorMap above). Users can pan and zoom to anywhere in the world to view the locations of past sand fly collections and the results of modeling that predicts the geographic extent of individual species. Collection records are searchable and downloadable, users can map and contribute their own georeferenced collection data or distribution models, and all contributions have full attribution.
Currently, SandflyMap has 8,100 records. SandflyMap is designed to preserve and make available the results of past collecting and distribution modeling activity. The utility of SandflyMap will increase as more records and models are added. Contributions are encouraged, especially from individuals and organizations with digitized, georeferenced records and those involved in ongoing sand fly surveillance. SandflyMap is modeled on MosquitoMap - see International Journal of Health Geographics.