These projects have recently been initiated. Please visit web-page periodically for monthly data updates, new maps, and other project information
Contents
For more information about Navy Environmental and Preventive Medicine Unit 2 (NEPMU-2) -click here
For more on project collaborators,-click here
Project 1. NEPMU-2 - Entomological Surveillance for Zika virus Transmission in SOUTHCOM AOR
PRINCIPAL INVESTIGATOR: LCDR James C. Dunford, PhD james.c.dunford.mil@mail.mil
CO-PI(s): Bernard Okech, PhD, bokech@ufl.edu
CO-PI(s): Jenifer Scancella, jenifer.m.scancella.mil@mail.mil
CO-PI(s): David Cepeda, david.cepeda.mil@mail.mil
PROPOSAL STATUS: Funded FY2016 and FY2017
Emerging infectious diseases such as Zika virus are expanding their ranges, and the Caribbean has recently been experiencing an explosion in cases of Zika virus infection. Due to the lack of treatment options for Zika, there is a need to monitor areas where transmission is occurring to improve risk communications and force health protection recommendations. Although Ae. aegypti and Ae. albopictus are considered the primary vectors of Zika, it is possible that other mosquitoes, especially in a new niche, may play a role in Zika transmission. Historically, when a virus is introduced into a new ecosystem and into susceptible populations, new vectors of transmission may arise and the disease may spread more rapidly than what occurs in endemic areas. These factors may have likely accounted in large part for the rapid spread of Zika in the Americas and the Caribbean. In this study, the density, relative species abundance, host preference, and rates of Zika infection will be assessed using RT-PCR from several genera of mosquitoes caught in and around the households in sites of suspected Zika transmission based on Ministry of Health data in Haiti. Mosquito specimens will be collected monthly to further enhance our understanding of the mosquito species involved in the transmission of Zika in a formerly naïve mosquito population. For an overview of Zika response efforts in the Department of Defense and Department of Navy, please see the following link:
http://navymedicine.navylive.dodlive.mil/archives/10607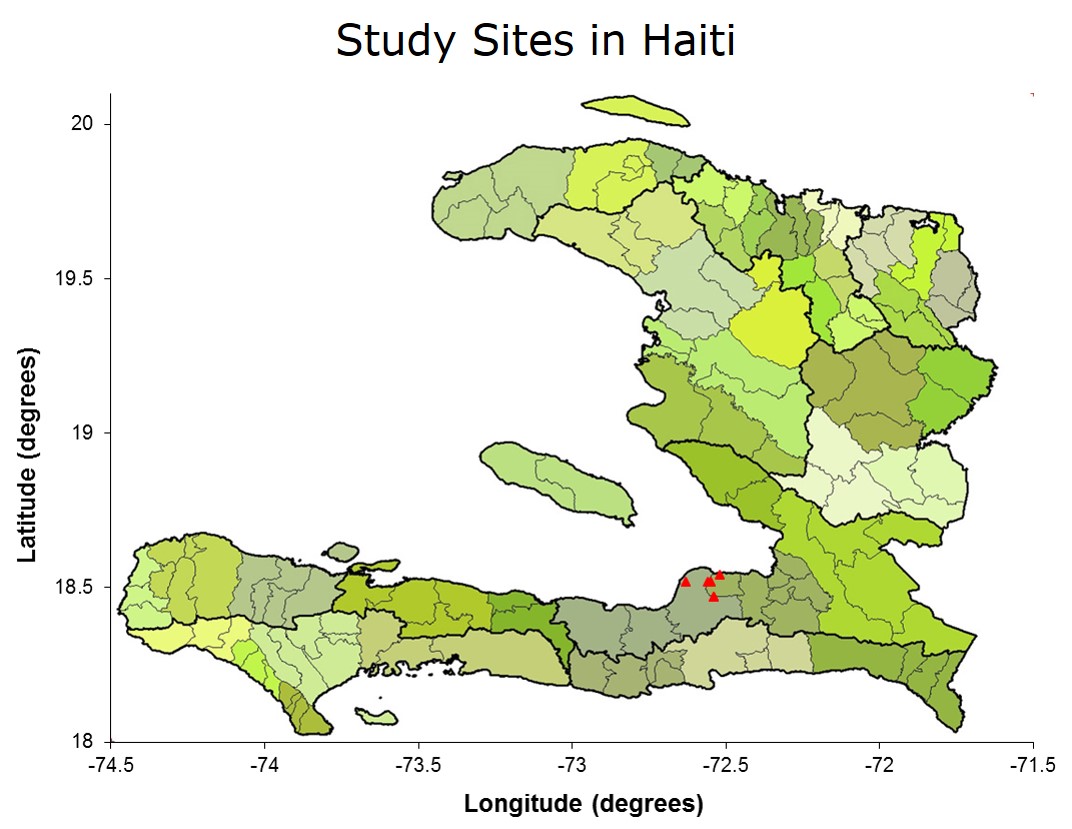 There is a critical need to move quickly: the ZIKV outbreak may burn out, and so to the window of unique opportunity to study how ZIKV get established in a new niche with a naïve mosquito population. The major advantages at our Haitian field site include: (a) ongoing studies in Haiti with built in infrastructure for the ZIKV studies and (b) we have clinical and vector-related expertise required for this effort.
The following figures detail numbers of species collected by collection site. Data are displayed by week number and each week represents 36 hours total collecting time (3 trap nights at 12 hours each). Mosquitoes were collected using BG Sentinel V1/baited human lure traps, CDC light traps and CDC gravid traps.
Note: Data for March to August 2017 are not included here.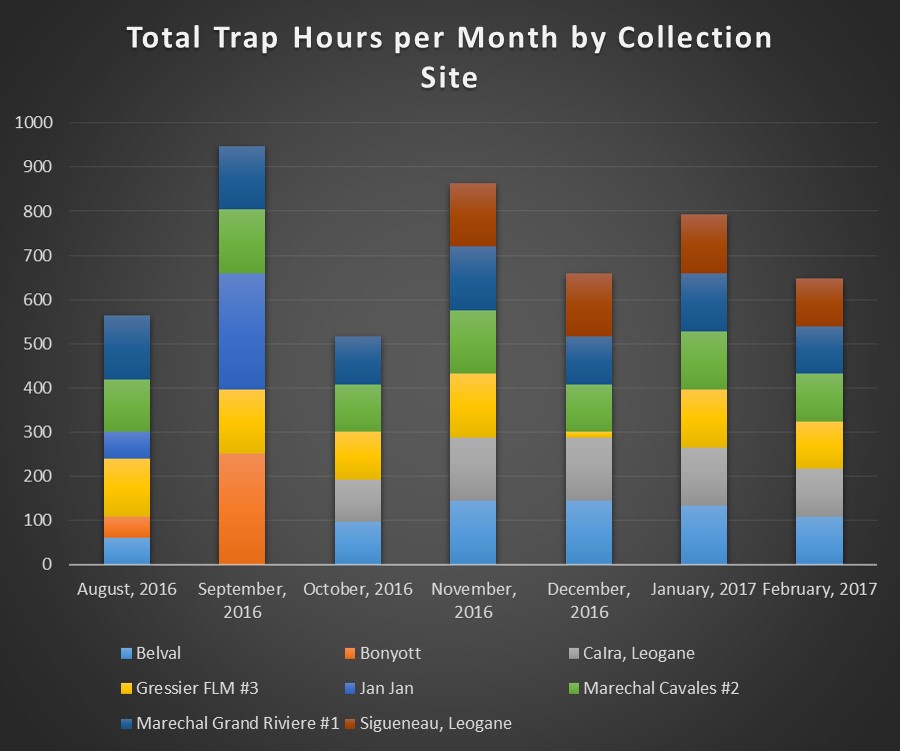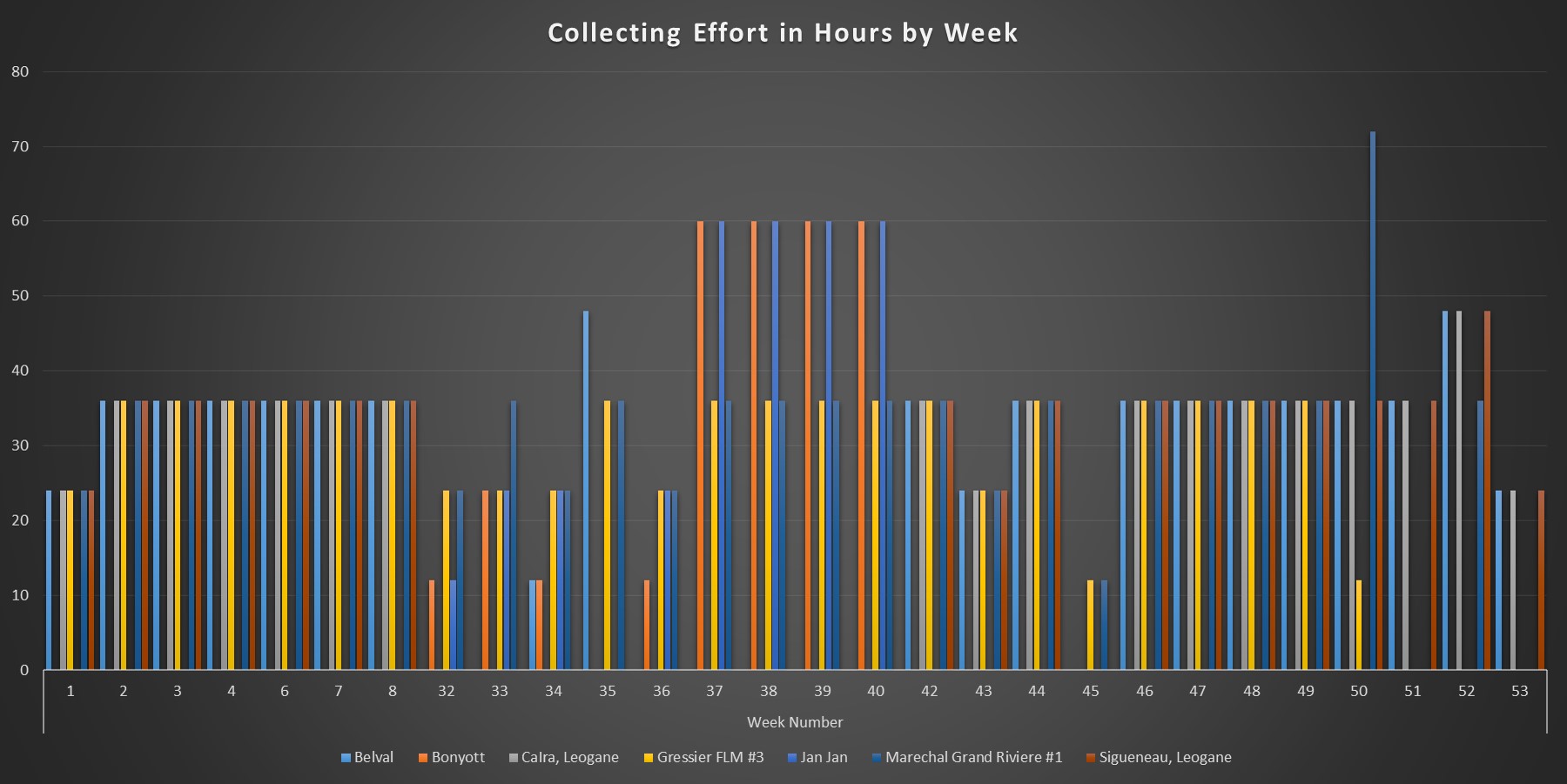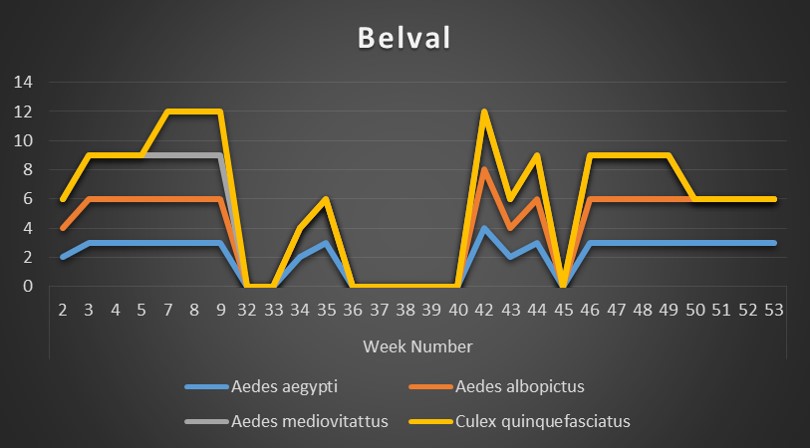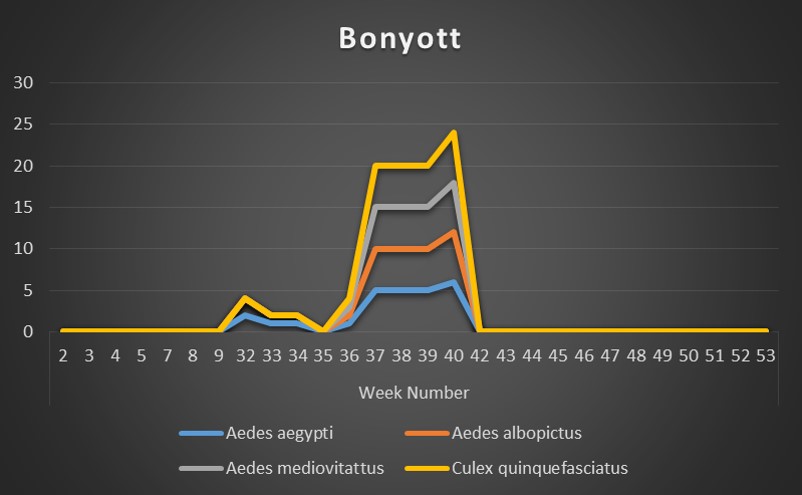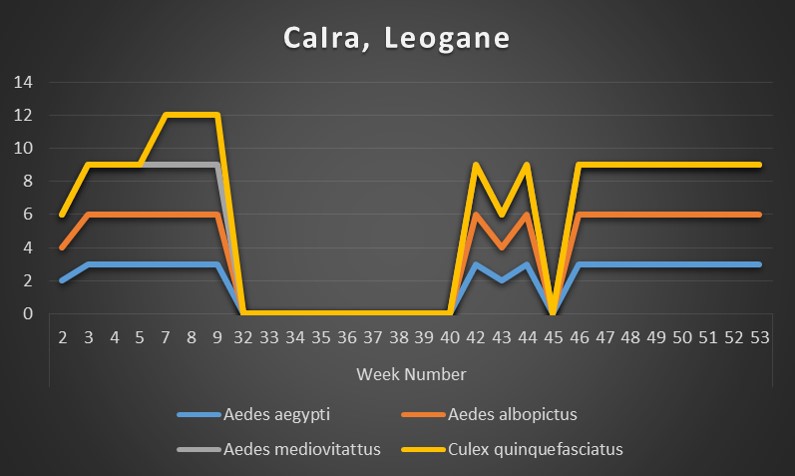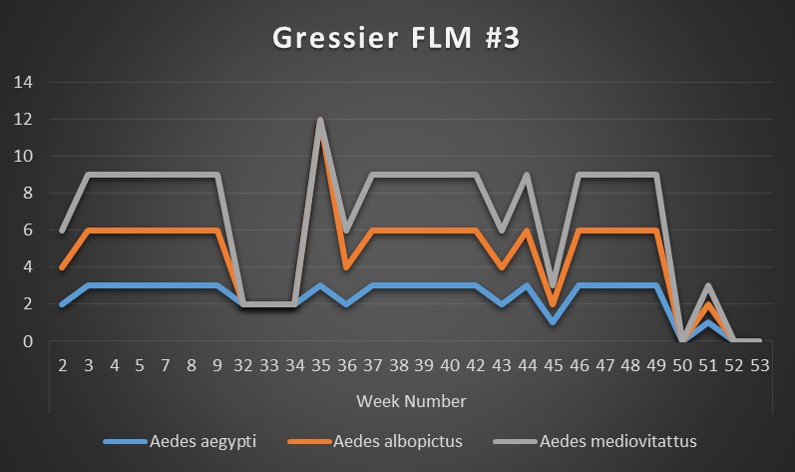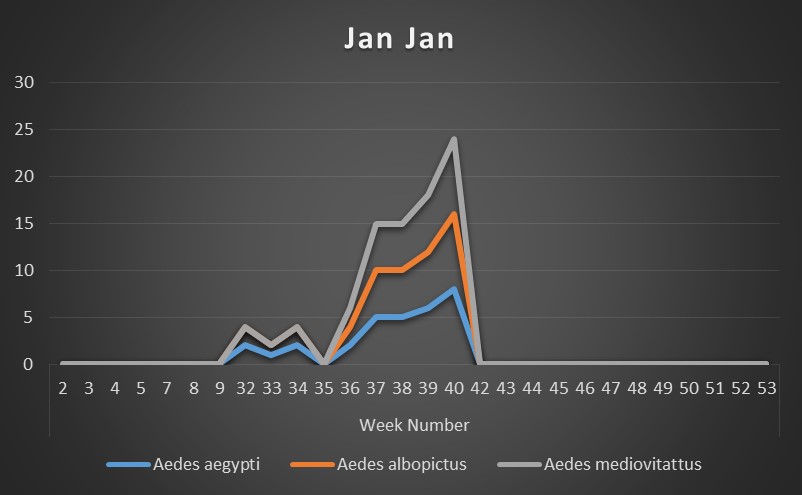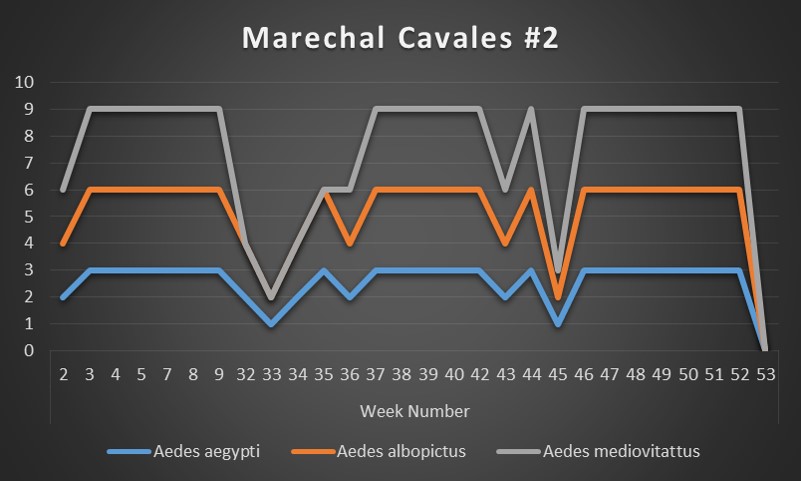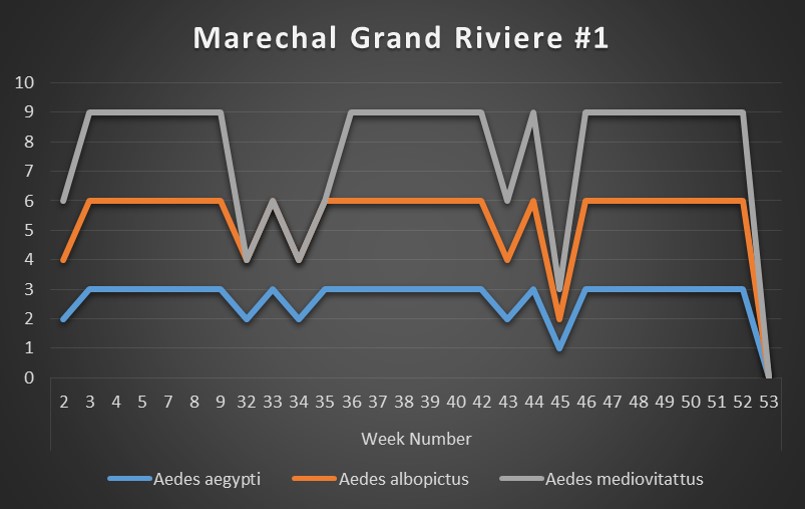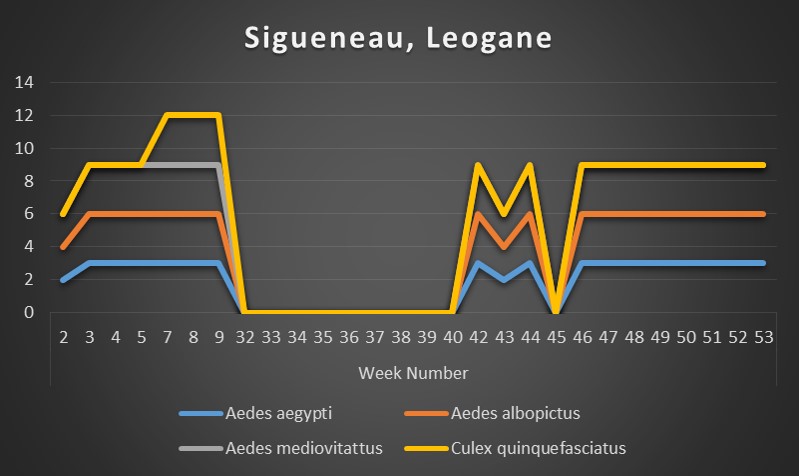 Project Objectives
Collection Sites
Resource Material
Protocols
Project 2. NEPMU-2 - Aedes mosquito surveillance and pathogen testing to determine host preference and prevalence of chikungunya and dengue viruses in vector populations in SOUTHCOM AOR
PRINCIPAL INVESTIGATOR: LCDR James C. Dunford, PhD james.c.dunford.mil@mail.mil
CO-PI(s): Bernard Okech, PhD, bokech@ufl.edu
CO-PI(s): Jenifer Scancella, jenifer.m.scancella.mil@mail.mil
PROPOSAL STATUS: Funded FY2016 and FY2017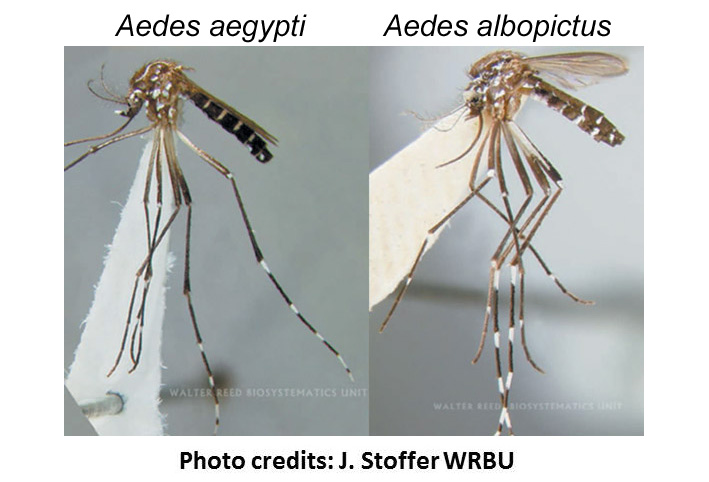 This study addresses gaps in knowledge of Aedes aegypti and Aedes albopictus distributions, infection rates, and host biting preferences and their impact on transmission of chikungunya (CHIKV) and dengue in rural and urban areas at select sites in the SOUTHCOM AOR. These data will provide information for operational planning of military missions in SOUTHCOM and help assess the potential for the emergence of CHIKV and dengue in the U.S. It also aims to enhance international vector surveillance efforts and improve information exchange about these important mosquito vectors. Primary specific aims proposed include the following:
Aim #1: To determine CHIKV and dengue infection status in Ae. aegypti and Ae. albopictus at 12 sites in 4 countries in SOUTHCOM. In this aim, we will collect mosquitoes, archive collection records, and test for infection to identify infection rates. Mosquito species (Ae. albopictus and Ae. aegypti) involved in CHIKV and dengue transmission will be caught at selected sites and mosquito species-specific differences in CHIKV and dengue infection rates will be determined by real time PCR. Vertical transmission will be determined in eggs collected in standard sticky traps.
Aim #2: To determine the host biting preferences of Ae. albopictus and Ae. aegypti in SOUTHCOM. Blood feeding preferences of Ae. albopictus and Ae. aegypti will be determined by assessing the blood meals in mosquito midguts by species-specific PCR methods targeting cytochrome B and C genes of potential hosts. Aedes aegypti and Ae. albopictus caught in traps (BG Sentinel™ traps) will be tested to evaluate the epidemiological potentials of these two species to sustain transmission at several sites in SOUTHCOM.
Link to the WRBU species pages for Ae. aegypti and Ae. albopictus

Project Objectives
Collection Sites
Resource Material
ArcGIS Online map of collection points
Protocols